A Brief Personal History
I've always had a desire to learn new and creative things. Longer ago than I care to remember, I earned a BA degree in creative design and advertising, and an MBA from a prestigious program. Also many years ago, I spent a considerable amount of time coaching soccer and was a certified FIFA soccer referee. It was my knees that decided they were finally too old to continue, even if the rest of me was willing.

My business life was often hectic. After more than 40 years in the advertising and publishing industry, I'm finally pursuing personal projects that let me enjoy what I do, at my own pace. But I still always find balance by spending my favorite times with my family and friends.

My sons are all great young men (obviously a glowing tribute to their mother), and my spectacular grandchildren are more precious than you can imagine. I also have a beautiful wife who has put up with me for almost 42 years (a miracle of tolerance I guarantee you I do not question)!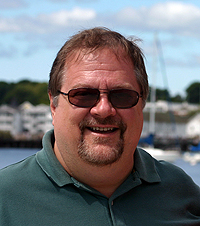 Yes, that's really me!

About This Site
My first new camera was a Mamiya 1000 DTL, purchased in 1968 (I still have it and it still works). I've been collecting Mamiya cameras for a long time. They are often overlooked as interesting photographic equipment, and I was surprised at how little information was available about the 35mm portion of Mamiya's history. Not even Mamiya itself said anything about their 35mm heritage, apparently preferring not to detract from the marketing efforts for their mid-size professional film and digital brands.

However, I've gathered a lot of Mamiya 35mm data myself over the years and decided to make my information available to everyone. This web site has been a long creative learning experience for me, and I certainly hope it has become an information forum to each Gentle Reader for what I think are some truly neat old cameras!

Few people realize Nikon's Nikkorex F camera, featuring the first Copal S vertical-travel metal focal-plane shutter, was actually produced for Nikon by Mamiya. Equally obscure is the fact other well-known and well-respected cameras, like the Rollei 35, used lenses (Rolleinar) that were actually made for them by Mamiya!
I know full well they made some "clunkers" along the way, but Mamiya also introduced many new features to 35mm photography. They were in the forefront of SLR design (see Mamiya Prismat prototypes); had the first production 35mm camera with a removable back (Mamiya Magazine 35, c.1957); the first dual metering system (Mamiya 500 DTL, c.1968); and unquestionably the most technologically advanced 35mm SLR of its day (Mamiya Auto XTL, c.1971).
Mamiya Digital Imaging Company still produces one of the most extraordinary medium-format digital cameras!

Other Things About Me
I've been fortunate to have done a lot of traveling over the years. I've been from Maine to California and Seattle to Miami (although I have to admit I've never seen the Grand Canyon). My wife and I spent weeks in Germany, Austria and Hungary, and made brief stops in Ireland and Amsterdam. We've been to Venice, Naples, Rome and Florence in Italy; Athens and Santorini in Greece; Eze, Paris and Nice in France; Barcelona in Spain; and Dubrovnik, Gruda and Cavtat in Croatia. We've also been lucky enough to have spent several weeks in both Japan and The People's Republic of China.

And as wonderful as all that sounds (and I do realize exactly how fortunate and blessed we have been) there's still no place like home!

Something You Think Should Be Added?
Join my Collecting Mamiya 35mm Forum and tell us about it!