PRISMAT CAMERA FINALLY FOUND!
I finally found the camera that completed my collection! It's the curved nameplate Mamiya Prismat. The one I found has a lot of issues. I've fixed the bent lens ring, but the mount is still jammed. The film advance lever doesn't work and the shutter release doesn't fire. As I said, there's still a lot of work to do to make this a functional camera again ... but at least my collection is finally complete.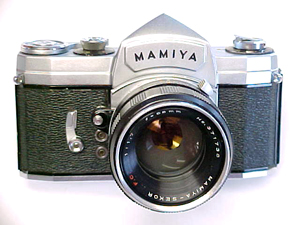 Mamiya Prismat SLR (curved nameplate, c.1960)

Lens Auction Price Information! Auction price averages are available for the interchangeable lenses used on all Mamiya 35mm SLR cameras. Visit my Lens Auction Prices Table to view this ongoing effort!

Instruction, Service & Repair Manual Reprints may be purchased from this site. To see if the data you're looking for is in the collection, check out the Instruction Manuals page (Note: all proceeds help fund site maintenance).

---
October 8, 2011 General updates and revisions were made to many pages.

May 9, 2011 Updates and revisions were made to many pages on my site, including the Related Links, Mamiya ZE, NC-1000, XTL & X-1000, MSX & DSX and TL & DTL pages.

November 21, 2010 Updates and revisions were made to my Related Links page!

November 17, 2010 With the help of Mamiya enthusiasts and friends, Roland Stauber's wonderful Mamiya NC1000 information site has been preserved!

May 17, 2010 Sadly, the Mamiya NC1000 site created by Roland Stauber was forced to shut down.

December 1, 2009 Minor updates to my Kodak, Russian and German camera pages!

September 3, 2009 Minor updates to the Camera Auction Prices page!

September 2, 2009 Read the September 2009 Shutterbug Magazine review of the stunning 28-megapixel medium-format Mamiya DL28 digital camera. With an optional magazine, it can also shoot film!

August 25, 2009 More minor tweaks to the Mamiya Rangefinders page.

August 19, 2009 A minor update to the Mamiya ZE page, talking about its use without batteries!

November 16, 2007 Additions and deletions made to the Manuals page.

August 31, 2007 Updates and new graphics made for the Sunny 16 page.

March 18, 2007 A new "How-To" page, on Cleaning the MSX Viewing Screen has been added.

November 28, 2006 Minor changes and addtions to the Home Page and History page.

September 1, 2006 Mamiya O/P completed the transfer of its Optical Equipment Division, manufacturer of leading medium-format cameras and lenses to Cosmo Digital Imaging Company, Ltd., forming a new company called Mamiya Digital Imaging. Mamiya Digital Imaging has acquired all Mamiya assets, inventory, property, trademarks and patents. They are expected to retain a substantial number of Mamiya staff and facilities, and continute service of Mamiya cameras and lenses in the existing Mamiya distribution network.